Beef and Cornbread Squares
vrvrvr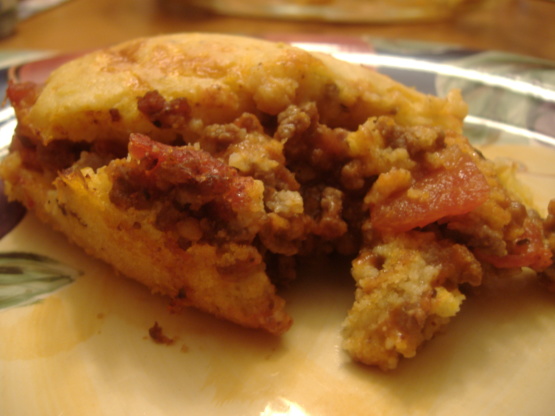 I love cornbread, and this just fits the bill. Almost a cold weather recipe, but when you makes this, it becomes an any time recipe! I make this all the time for when my usual Monday Night Football Armchair Quarterbacks come over! We seldom get to go to their houses because they want what I cook! They always say, "but you cook so good". I'm sure a lot of you know what I mean! I hope you like it, and let me know how it goes for your own MNFB crowd! Enjoy! This doubles and triples great. Here's a tip: I used to buy the cans of tomatoes and green chilis, such as Rotel), but since they are pricey, I buy the tomatoes and green chilis separately. You will get more for the money and you will have enough to double or triple the recipe. If I have leftover chilis and tomatoes, I freeze them for something else. Top this with my salsa #218314!

Top Review by vrvrvr
This was bursting with flavor and fun to put together. We didn't have football going, but it's Monday night and I had plenty of hungry eaters. Everyone thought this was great. It didn't seem like much batter when I assembled this, but the cornbread baked up generous and golden. This is perfect for cornbread lovers, and would be heaven on a wintry night. Thanks so much -- I look forward to making more of your recipes! (P.S. My pieces weren't square because I put it in an oval dish)
Brown ground beef, drain fat.
Stir in next 4 ingredients, then stir in undrained tomatoes and chili peppers. Cook and stir until thick and bubbly.
Combine flour, cornmeal and baking powder.
Combine eggs, corn, milk and oil. Stir into dry ingredients.
Add cheese. Stir until moistened.
Spread half of batter into a greased 9x9x2-inch pan.
Spoon mixture over that.
Top with remaining batter.
Bake at 375°F about 30 minutes or until golden brown.
Let stand 5 minutes. Cut into squares.