Beef and Cabbage Soup a La Shoneys
Parsley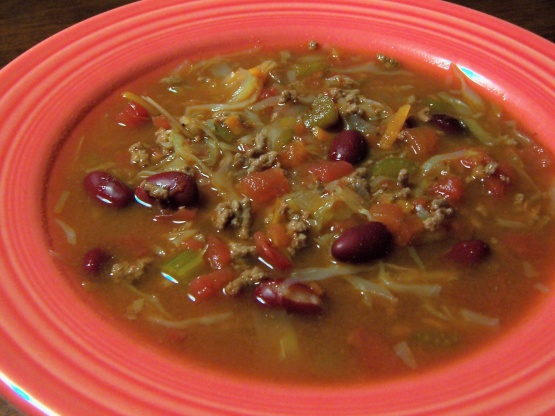 i tried to copy this cause we have no shoneys up here and i really like this soup

thanks for getting this soup. i use to work at shoneys. and now we dont have one in our area it went out.. i knew it had some of the stuff but didnt know the rest..or how much..love this soup..
Dice the vegetables.
Brown the ground beef.
Drain.
Add onion, celery, bell pepper and garlic.
Cook until wilted.
Add the diced cabbage.
Add tomatoes juice and all.
Add Worcestershire sauce.
Add pepper.
Add 2 cups water.
add boullion cubes
Add drained beans.
Cook 30 minutes.