lazyme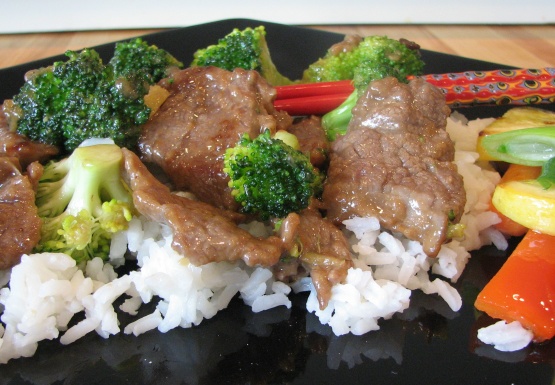 This recipe is from my roommate in college. She was from Hawaii and of Japanese descent. This beef and broccoli is in the Japanese style, dark and flavorful with just the lightest coating of slightly sticky sauce. If you prefer the Chinese style with lots of mild, creamy gravy, try Chinese Beef With Broccoli, by Pneuma.
Delicious! This is one of our favorite dishes to order at restaurants, so I was happy to find a quick and easy recipe that I could make at home. I did double the finishing sauce, but next time I think that I would double the entire recipe as this didn't seem to make a lot and I would quadruple the finishing sauce. I served this over pan-fried yakisoba noodles. **Made for 2016 Culinary Quest for Pi Rho Maniacs - Japan**
Cut beef into thin slices 2" x 1/2" and soak in marinade for 10-15 minutes at room temperature.
Cut up broccoli in flowerettes and stem into thin pieces.
Heat wok(or skillet) to med high temperature Add 1 T oil. Place slice of ginger in oil and cook until browned; flavor is now in oil; ginger can be removed.
Add broccoli immediately and stir fry 1-2 minutes.
When broccoli is 3/4 done, remove from pan and set aside in warm place.
Heat wok again, add 2 T oil and stir fry beef.
When beef is 3/4 done, add broccoli, any leftover marinade.
Add the finishing touch ingredients.
Stir this mixture into beef and broccoli and cook until gravy thickens.
Add a few drops of sesame oil and serve.