Beef and Blue Cheese Salad
lazyme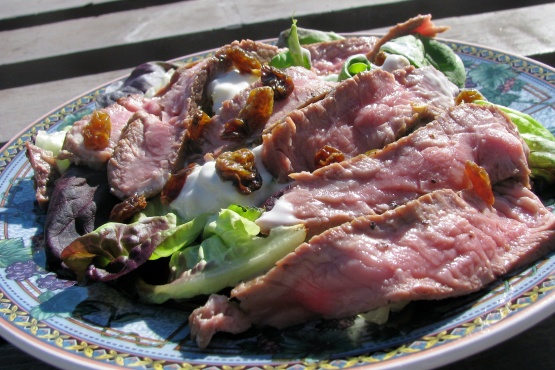 Nothing better than Irish blue! The whiskey-soaked raisins add that extra special touch. Posted for ZWT8 Ireland.
In a small bowl, soak the raisins in the whiskey for 1 hour. Drain.
In a medium bowl, combine the mayonnaise, parsley, buttermilk, lemon juice, and vinegar. Whisk until smooth. Add blue cheese crumbles and stir to combine. Add salt and pepper to taste. Refrigerate for 1 hour.
Grill the steak to desired doneness and let rest for 10 minutes.
Divide the lettuce onto 6 serving plates and spoon the dressing over each. Slice the beef and arrange on top of the salad. Sprinkle the raisins over the lettuce.