3 Reviews
This was absolutely delicious! I believe I stayed true to the essentials of the recipe even though I added some diced red bliss potatoes and subbed butternut squash for the parsnip (couldn't find any last week!). The flavor of the gravy is wonderful no matter what your preference for vegetables. The veggie combination though was a nice introduction to autumn this weekend. Thanks for sharing this very flavorful recipe.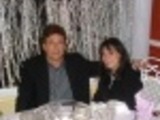 The basic taste of the broth was wonderful! Changes we made- only had 1.3# meat- went with that. Used 2-3 Tbl olive oil, no butter. Used veg buillion instead of beef broth. Lots more veggies- twice the tomatoes and carrots, extra parsnip, and 4 small potatoes. Just right for a winter night.
This was fantastic! I accidently dumped in an entire 64 oz can of crushed tomatoes but it was still amazing. I added potatoes and next time (there will definitely be a next time!) I will add mushrooms also. I made it in a crockpot for about 10 hours.

Beef and Beer Stew With Root Vegetables