mliss29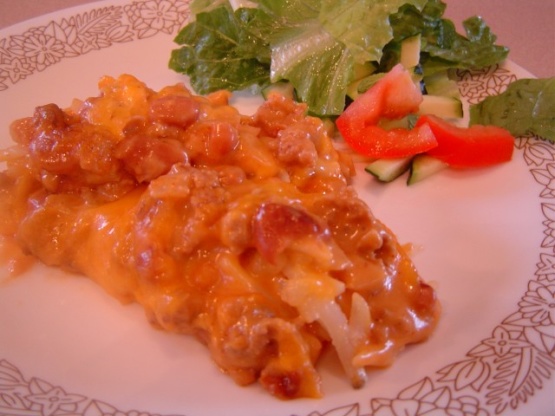 A simple one-dish meal that we hope to try soon.

This was good! (But I used regular soup and regular cheese.) DH liked it too. In fact, it was so good, I will try to work out a vegetarian version because I'm planning to go veg when I get done with my outstanding tags. (This was tagged for Newest Zaar Tag 08A.) I mixed half the cheese into the meat mixture, put a quarter on top of the potatoes, and the final quarter on top of the dish. Very good comfort food. Thanks!
Preheat oven to 350 degrees.
In a large skillet, saute beef and onion until done; drain any grease.
Add mushroom soup, beans, and cheese.
Season with salt and pepper, if desired,.
stirring well.
Spray 9x13-inch baking pan with cooking spray.
Distribute hash browns over bottom of dish and spread meat mixture on top.
Bake uncovered for 25 minutes.
Each Serving Provides:.
304 calories 30.4g protein 25.0g carbohydrate 8.4g fat 4.33g saturated.
fat 40mg cholesterol.
Diabetic Exchanges:
starch, 1 medium fat protein, 2 vegetable, 1 skim milk, 1/2.