Pamela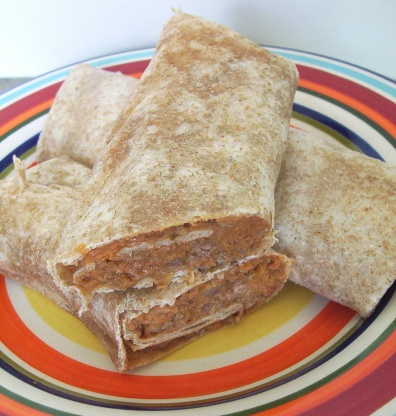 We cooked Spanish Rice and added a rinsed and drained can of black beans to the rice then layered the burrito w/ the bean/rice mixture and then the beef mixture then some cheese. Baked at 350 for 20 mins and they filled my impossible-to-fill-husband! He LOVED them and was so full after 2!! We froze the rest individually and I am so happy to say goodbye to those expensive disgusting "burritos" from the freezer section!
Saute onion in oil until tender.
Add beef and garlic and cook until beef is no longer pink.
Drain.
Add chili powder, cumin & other seasonings.
Stir in tomato sauce and simmer 5 minutes.
Add refried beans and cook and stir until well blended.
Set aside to cool completely.
Divide meat mixture into 12 portions.
Soften tortillas, according to package instructions, and place a portion of meat on each.
Roll up, burrito style.
These may be frozen as follows.
Place seam side down on a cookie sheet and freeze until frozen.
Wrap each individually and return to freezer.