Linky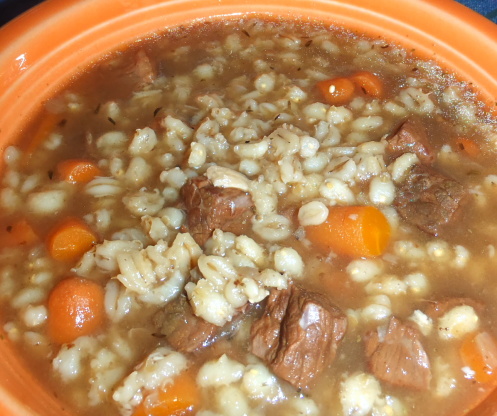 I serve as main dish. Freezes well. Funny note, I read that in Russian army if barley was cooked improperly it was called "shrapnel".

This soup is comfort food at it's best. I adapted it for the crockpot and added the pearl barley during the last hour and a half of the cooking time. Served it with cornbread and we were in heaven! Made for the Soups On Challenge - Culinary Quest - Russia, August, 2014.
Heat large soup pot coated with cooking spray over medium high heat.
Add half of beef, browning on all sides, remove, repeat with remaining beef, remove.
Add oil to pan, heat over medium high, add onion, sauté until lightly browned.
Return beef to pot.
Add carrots, garlic, water, salt, thyme, black pepper, bay leaves, and beef stock.
Bring to boil, reduce heat, cover, and simmer 1 hour.
Add barley; cook 30 minutes, or until barley is tender.
Discard bay leaves.
Check for additional salt and pepper.
Garnish with parsley and serve.