Nif_H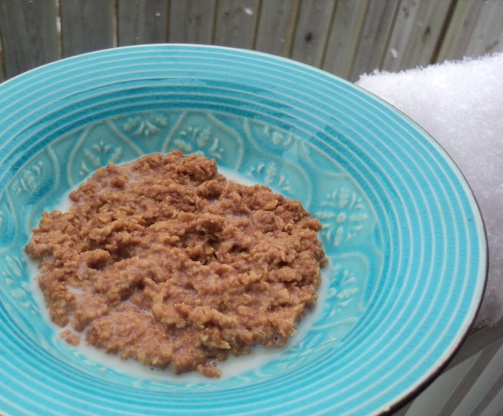 This isn't really a recipe, it's more an idea which worked really well. I find it hard to get to sleep, but don't like having a hot drink before I go to bed because I end up waking up a couple of hours later then can't get back to sleep. I love the taste of Horlicks (malted milk) though, and find it really relaxing, and oats are meant to help you sleep so I tried adding it to a bowl of oatmeal and it tasted really yummy! It's a lot cheaper than buying flavoured oatmeal too, and you can add any type of malted milk/hot chocolate powders to it, or even flavoured milkshake (my brother likes banana Nesquik with cinnamon). Have fun trying it out!
1⁄4 cup oatmeal

1 -3

teaspoon instant malted milk powder (depends how strong you want it)
1⁄2 cup water (or milk if you like it creamy, sometimes I add soya milk)
Put oatmeal in a bowl and mix in malted milk powder.
Microwave for about 1 1/2 minutes, then stir.
Either eat right away or microwave again to the consistency you like. Relax and enjoy!