Bed and Breakfast Spiced Pumpkin Scones With Honey Butter
Prep 15 mins
Cook 15 mins

Gorgeous spiced pumpkin scones with honey butter - what a treat for the tea-time table during autumn and winter. I have made these twice now and love the combination of the honey butter with the scones, although they are also delicious with plain unsalted butter. This recipe came from an Australian "Olive" magazine that was sent to me, apparently, Queensland is famous for its blue pumpkins where this recipe originates from - I added the spices as well as the honey butter! A wonderful recipe for the cooler months, but as it uses tinned or frozen pumpkin, these can be made all year around. If you don't want to serve these with the honey butter, just split them whilst warm and spread with normal butter or cream. Mixed spice is a British spice mixture, I have a recipe for this on RZ: Mixed Spice - Traditional Old Fashioned English Pudding Spice
Directions
Preheat oven to 200 C / Gas 6. Lightly grease a baking tray.
Cream together butter and sugar, then beat in egg, pumpkin puree and 4 tablespoons milk until smooth. Add the mixed spice to the pumpkin mixture, taste and adjust the spices to taste. Stir in flour until a dough forms, then knead a few times on a well floured surface until the dough holds together. Add more flour if dough is too wet or sticky.
Press the dough into a flat circle 1 to 1.5cm thick. Cut into 6 wedges, place onto greased baking tray, and brush the tops with 2 tablespoons of milk.
Bake in the preheated oven until golden brown on top and bottom, 10 to 15 minutes. Once done, wrap scones with a clean tea towel and allow to cool for 15 minutes before serving with the honey butter.
Honey Butter: Mix the butter and honey together, adding the honey a spoon at a time until the right consistency is achieved. Mix well. Best served fresh with the pumpkin scones.
Most Helpful
Fall is here, and I love pumpkin! These were great little scones. Served them with my morning coffee last week and they were very satisfying. Instead of serving with honey butter (which sounds wonderful) I made them with turbinado sugar crusted tops so they would travel better to work. Americans should take care with the conversions here: I came up with 8.9oz pumpkin and 2 cups 2 Tbsp Recipe#5274 #5274 after visiting "The Metric Kitchen" website for conversions. Not the 1 to 1 ratio you would expect as they are both 250 grams in the ingredients list (the flour is much lighter weight). I will be making these again. Thanks, French Tart! [Made for Zaar Cookbook Tag]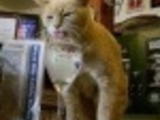 Wow these are so yummy! I had quite a lot more pumpkin than the recipe called for, so I made a double batch and left out the milk. They turned out really light, lovely and soft. I probably used the upper limit of the spice mix and also added ground ginger. My husband isn't a huge fan of pumpkin and wasn't sure he'd like them as they were baking, but he gobbled his up when they'd cooled down enough to eat and has even asked to take some of them to work to share tomorrow. Thanks for a yummy recipe which will be made frequently in our house. :)
Delish!! FT, these are wonderful scones, and easy, too! They have a much more tender crumb than the scones I normally make, probably due to creaming the sugar and butter, the addition of the egg, and the pumpkin - the texture is slightly reminicent of pumpkin pie - mmmm! The honey butter is wonderful - having never made it before, I'm thrilled to have a simple, delicious spread to offer for morning treats! I did add cinnamon chips and pecan to the scones, and as I didn't have mixed spice (can't find that in Canada), I used Pumpkin Pie Spice, which I understand is very similar. Thanks, FT, for a lovely new scone to add to my repertoire! Made for Veggie Swap 18, for our VIP Chef!