Becky's Special Tuna Melts
Prep 15 mins
Cook 10 mins

Here is a recipe for tuna melts "my way". I like my tuna salad filling to be onion-ey, with bits of tomatoes, covered in melted cheddar, with the bread grilled dark brown. I like to eat these with creamy tomato soup and a big glass of milk. Now that's my idea of comfort food!
Directions
In a small mixing bowl, separate tuna chunks with a fork until desired flakiness.
Add mayonnaise, mustard, pepper and salt and combine thoroughly with fork. Then fold in onion, scallion and tomatoes.
Preheat skillet/griddle to medium-high heat.
Spread margarine onto one side of each slice of bread.
Set half of the bread slices aside. On one half, scoop and smooth tuna filling evenly onto the non-buttered side of each slice; then top with cheese slice. Place the bread slices that were previously set aside atop cheese with buttered-side-exposed.
Once skillet/griddle is good and hot, grill both sides of sandwiches for 3-5 minutes or until bread is browned to your liking.
Remove to a plate, slice in half and serve hot.
Most Helpful
This was a tasty tuna salad filling, which stands on its own. I used Dijon mustard, which added just the right amount of tanginess. I doubled the recipe, and was able to make 4 sandwiches. I did use butter instead of margarine, though. I would actually make this filling again, for a regular tuna sandwich! Thanks for posting this. Made for Spring PAC 2009.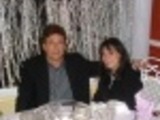 The DM and I have just enjoyed this as a light lunch. I used tuna in brine so did not add extra salt and due to allergy issues had to omit onion but added extra spring onion (scallion). Divided the tuna mix between 2 thick slices of toasted wholegrain bread, topped with the sliced cheese and put under the griller (broiler) till cheese was brown and bubbly. Served with a lightly tossed green salad. Thank you MarthaStewartWanabe for a quick delicious lunch. Made for Recipe Swap #15 - April 2008.