Becca's Balsamic Grilled Chicken
Rita1652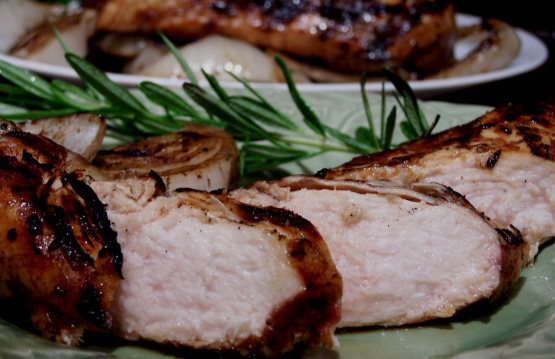 This recipe is one that I learned from a friend of mine. I think it's a tasty way to do chicken on the BBQ Grill. (Time to make does not include marinating time of 2-4 hours.)
I made the marinade/dressing exactly as directly with a good balsamic vinegar. I marinated my chicken breasts for a little over 6 hours, then grilled them on an indoor, stovetop grill. They didn't quite burn while grilling, but they were very dark by the time the time the chicken was fully cooked, though the exterior of the meat wasn't tough or dried out. The flavor of the marinade didn't permeate into the meat very much - maybe because it only marinated 6 hours instead of 24. In the end, this was OK for me. I think it would have been simpler, more tasty, and helped to conserve my good balsamic vinegar if I'd just grilled the chicken after a little salt brine and then just drizzled them with a balsamic vinaigrette afterwards.
Pierce the chicken breasts all over with a fork.
Pour the oil and vinegar into a large plastic zip-top bag.
Add in the brown sugar, the black pepper, the smashed garlic, the onion slices, and the sprigs of rosemary and thyme.
Seal bag, and "knead around" to mix well.
Put the chicken breasts into the bag with the marinade; reseal bag and knead it around to coat all the surfaces of the chicken. Place the bag into the refrigerator for 2-4 hours. (Occasionally knead bag).
When you have your coals ready on your BBQ grill, take out the sprigs of rosemary, and thyme and lay them directly on the top of the coals. Place chicken on an oiled grill rack over the heat. Grill 5-8 minutes per side, or until chicken is done.