Bobtail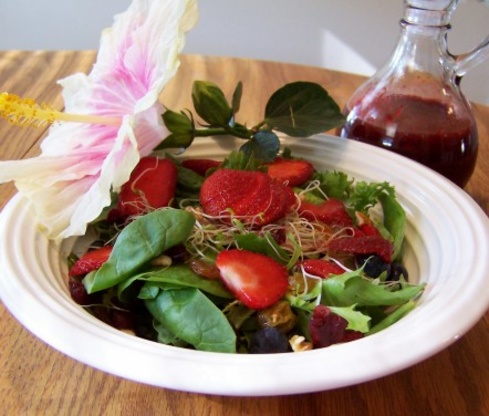 This salad is based on one found in The Healing Herbs Cookbook. It is a real show-stopper! Substitute raspberries or sliced strawberries for the blueberries if you wish.

This is a beautiful and delicious salad. I am sorry I could not find edible flowers nor raspberry vinegar! I used a blossom from my hibiscus as garnish (did not eat it)and a Raspberry Walnut Vinegarette and it was delicious! Since this was in participation with the Strawberry Recipe Swap, I used strawberries in addition to the blueberries. This was a wonderful combination! I look forward to impressing company with this salad. Hopefully I will have better luck finding edible flowers. Thanks Lennie, for a very easy and impressive salad!
Note: It is very IMPORTANT that the flowers you eat from the following list be grown without pesticides; as well, do not gather flowers to eat from beside a busy road or highway.
Edible flowers list: bergamot, borage, calendula, chicory, clove pinks, dandelion, echinacea, hollyhock, hyssop, lavender, day lilies, nasturtium, pansy, rose, violets; as well, the flowering tops of edible herbs (like chives, rosemary, mint, sage, thyme, etc) can also be eaten.
To make salad, combine salad greens, sprouts, berries, raisins, apricots and nuts in a large mixing bowl.
In a small bowl, whisk together the oil and vinegar; add salt and black pepper to taste if you wish.
Pour over salad and toss well.
Arrange mixture on a large shallow serving platter and garnish with the edible flowers; serve immediately.