Beautiful Chocolate Disks With Seeds and Fruits
awalde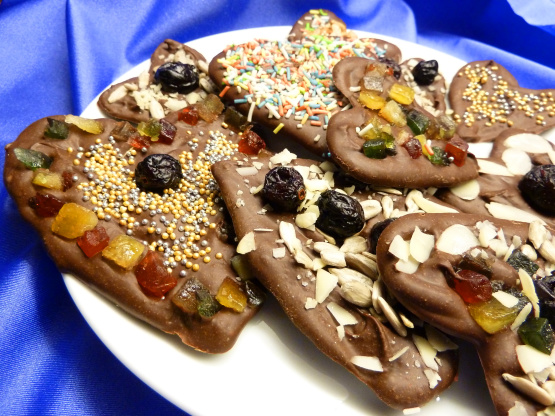 This recipe makes a unique and very pretty sweet something to gift to your neighbours or work mates during the holiday season, but can also be part of a larger gift basket. Or maybe youre looking for something unique and home-made to show your sweetheart how much you love him/her. These pretty and very professional looking chocolates are sure to please whomever you decide to give them to. :) Vary the toppings to make these fit every season of the year. I would recommend packing the hardened disks in a foil-lined small box and tying it with a pretty ribbon. Apply a cute gift-tag and youre all set. Please note that the cooling time of 2 hours is not included in the cook time.

I'm SO glad I got to try this recipe! It was one that was on my list during the contest and it's definitely a winner. I used 3oz each of Scharffen Berger fine artisan semi-sweet dark chocolate and extra rich milk chocolates. I adjusted the spices to accommodate the extra ounces of chocolate. Using a double-boiler to melt the chocolate kept it nice and smooth until I was done making all 15 disks. Mine are about 1-1/2 inches each, very addicting and if there are any left tomorrow I'll be proud to give them as a gift! Thanks for sharing your creation, Loula! Made & enjoyed for Hidden Gems - Winter 2010.
Melt both chocolates in one bowl over a hot-water bath (I boil water in a kettle, pour it into a small sauce pan, let it cool for 1 1/2 minute and then add the bowl with the chocolate inside. Stir with a spoon to speed up melting. This will take about 5 minutes.) or using the microwave.
Stir in all of the spices (you might want to adjust them to your personal preference) until well distributed.
For each chocolate disk drop 1 tbs of the melted chocolate mixture onto a paper-lined baking sheet. Using a spatula (or the back of a spoon) pat the mixture into a disk-shape. You should not make them too thin as they might not carry the topping then.
Sprinkle with dried cranberry pieces, poppy seeds and sunflower seed kernels as well as the crushed vanilla baking chips. It is up to you how much topping you place on your disks, but I think you wont be able to fit more than what I have written above as a guideline.
VARIATION: Do not crush the vanilla baking chips, but instead melt them with ¾ ts of cream. Dot the dark chocolate disks with this mixture and use a toothpick to swirl the two together. Now you can apply the above toppings or opt for some coloured sprinkles.
Set your baking sheet aside and allow the chocolate disks to harden. This will take approximately 2-3 hrs(Do not place in the fridge as this will cause chocolate to turn whiteish).