Prep 15 mins
Cook 45 mins
A Cheese Bread that is OH So Yummy! My sister in law gave me this receipe and it's always a hit. I looked for other receipes on this sight with Beau Monde spice and only found dips. Hope you love this as much as my family does! Enjoy!
Directions
Cut French Loaf into 1 inch pieces diagonally.
Mix all ingredients together.
Cut swiss cheese in 1/2 diagonally.
On each side of bread, spread mixture and place one 1/2 slice of cheese in between the pieces of bread.
Cover Bread with foil and bake for about 45 minutes at 325.
Servings are approximately.
Most Helpful
This was a big hit today. We ate this for lunch today building up to the main turkey event dinner. We used Cuban style bread which we enjoyed even more.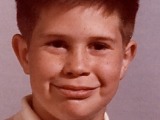 This is delicious. My step mom always makes this bread with lasagna. I am so happy you posted this recipe! Thanks!