gailanng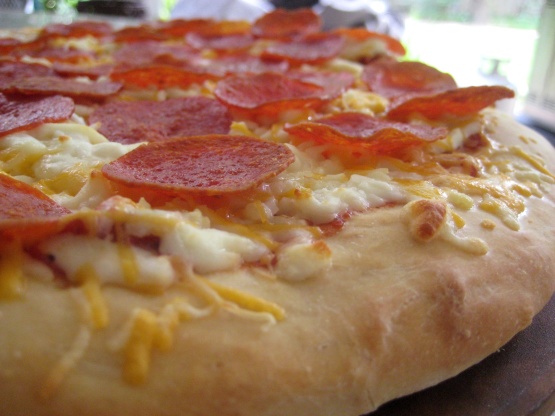 I have tried many pizza dough recipes, but I always find myself coming back to this one.

This is a decent dough, but I think I'm going to keep looking for one I fall in love with. It just didn't have anything "extra special" about it. Also, I'd love to find a recipe you could whip up without the hour wait.
Combine the water, yeast, and 1 1/2 cups of the flour in a large bowl.
Mix well.
Add the drippings, salt, and 1 cup flour.
Mix the ingredients together.
Add the last part of flour gradually until the dough holds its shape .
Place the dough on a lightly floured surface and knead until smooth and elastic, about 5 minutes adding more flour as needed.
Transfer the dough to a lightly greased (bacon drippings) bowl. Cover the bowl with a clean kitchen towel, and let the dough rest in a warm area (I put mine in the oven with light on) until it has doubled in size, about 1 hour.
When the dough has risen, place it on a lightly floured surface, divide it into two or more parts and roll them into balls. Cover them with a towel and let rest for 15 minutes.
The dough is ready to be shaped, topped and cooked.
Cook at 375 for 20 to 25 minutes until bottom is golden brown.