Bears in a Bubble Bath Mini Treats
Prep 10 mins
Cook 12 mins
These are the cutest treat for kids! They look like bears taking a bubble bath! They are delicious and not too messy - so they are easy to take to school/parties. (I came up with the idea after getting tired of taking cupcakes to school and having to deal with the mess!) They are also small enough for young children. Very easy to make when you use refridgerated cookie dough... My son entered these into a dessert contest when he was 5 years old and he won! Too cute!!
Directions
Preheat oven to 350 degrees. Mix cake mix, melted butter and egg together. This should be like a soft dough. Take a spoonful of batter and roll into a small ball. Push dough ball into a mini-muffin tin. Take a Rolo and push into the center of the batter. Fill up the muffin tin and bake for 10 minutes. Take the muffin tin out and add 3-4 mini-marshmellows on top of each treat. Push in 2 Teddy Graham bear cookies into each treat. Bake for 2 more minutes to melt the marshmellows a bit. Cool and enjoy!
NOTE: Please use muffin tin liners and spray with cooking spray -- these treats get sticky!
Most Helpful
What a cute idea! Never would've thought of it. They turned out SO cute. The first batch I made, I did exactly as directed: put the marshmallows on top and stuck it back in the oven for 2 minutes. My "bubble bath" kind of deflated when I did that. So the second batch, I took them out after 10 minutes and put the marshmallows on top and just let them sit for about 10 minutes. That turned out much better for me. My kids loved them! :-) (Made for Spring 2010 PAC.)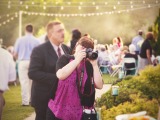 These are super easy, quick, and super cute! I used a regular cupcake tin, not mini, and it was perfect. I think next time I'll only bake them for 8-9 minutes, they got a little hard after they cooled. They taste just like a brownie, and the kids (and adults) loved them!
If this isn't the CUTEST kid treat I have EVER seen! I made then to take to the family Christmas Eve party tonight. I used red velvet cake to make them more festive. Easy to do just takes a bit of time to get the tins lined with cookie dough. I use cupcake liners as suggested. We sprinkled with green sugar for added holiday pizzazz! CUTE! Thanks Jennibear, very clever!