ImPat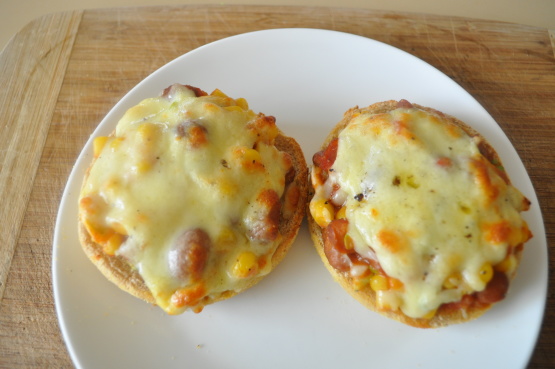 This is kind of like a baked bean pizza. A satisfying lunch or snack that adults & kids will both love.

Top Review by ImPat
What a wonderful light lunch this made for the DM and me. The addition of sweet chilli sauce is just so good, I used by recipe of recipe #226233 and for the cheese I used a sharp cheddar and a pizza mix cheese blend, popped in the oven at 180C fan forced and 5 minutes later we had a very tasty lunch, thank you Mandy, made for Everyday A Holiday.
Preheat oven to 200.C.
Combine beans, vegetables & sweet chilli sauce in a bowl.
Arrange muffin halves on a baking tray & spoon bean mixture evenly on top of muffins.
Sprinkle each muffin with some cheese and a little black pepper.
Bake for approx 15 mins or until heated through & cheese is golden.
Alternatively you could do this under the griller just toast your muffins or foccaccias first, top with ingredients & grill on low.