Beans, Tomatoes, and Spinach
flower7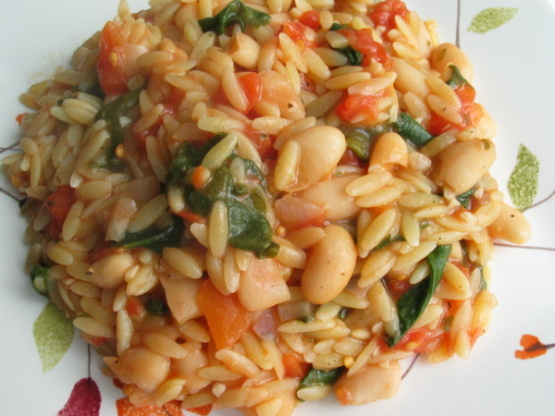 Yeah, it's a boring title, I know. I'm just too lazy to come up with something exciting, haha! This is something I just made after kind of combining a few other recipes I found while trying to find a way to use up some fresh spinach I had. It could definitely still use some work, but I just wanted to post the basics. If you have any ideas, let me know!

Very nice! I used red onion and about 3 cloves garlic. After adding the beans and tomatoes, I added about 1 cup uncooked orzo and 1 1/2 cups water along with 1/2 tsp each dried basil and oregano and a pinch of red pepper flakes. Set to simmer for about 20 minutes or until the orzo was cooked. Next time I will use more spices and less pasta. This was a great basic recipe and jumping-off point. Thanks for posting!
In non-stick skillet (10 inches or so), over medium heat, saute garlic and onion until tender.
Add spinach and water to skillet, reduce heat to medium-low, cover, and cook just until spinach is wilted (about 3 minutes).
Add beans and tomatoes (as well as pepper and any other optional spices), cover, and simmer 15-20 minutes.
Allow to cool, and enjoy!