ImPat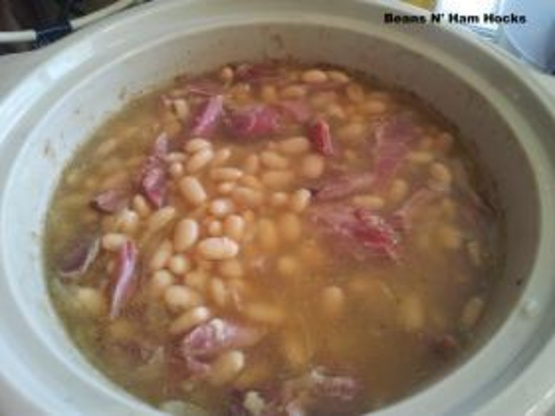 This is one of the most simple meals that I make I put it all the ingredients in the crockpot and later I have a very simple yet filling meal for my family.I use pink beans but you could use whatever you want. I serve mine with rice and a bit of cheese on top. Enjoy! *Update* I realized after two people reviewed my recipe and after I went to my local butcher that the ham hocks I get are rather large (I'm going to guess about as big as a medium eggplant if not larger). Which is why my recipe only lists one. You may want to change that to 2 or more depending on the actual size of your ham hocks.

Top Review by mle234
I found that 6 hours on low is perfect for cooking beans (but this does depend on the crockpot). Also, 6c of water worked well. To add more flavor, I put in 4 teaspoons of chicken bouillon. I don't mind simple recipes, but I don't see how this could get 5 stars - it was way too bland for me. Also, the last time I made this it went horrible wrong - I'm not sure but I think the ham hock needs more than 6 hours to cook well ('cause it gave everything an unpleasant smell, eventhough it all seemed cooked) and I added about two small onions (trying to correct the blandness, I overdid it - so everything smelled like semi-raw onions and ham). Update: I tried this again and upped the rating to 4 after a few changes (and 'cause I felt bad about the low 3 rating). I've used this on various beans (lima, pink, cannellini). I do 1lb. sorted and soaked beans, 1 sm. or med. onion, 1-2t roasted garlic, 1 ham hock, 6c chicken stock (or enough to cover the beans - though more liquid means longer cooking time) and put the crockpot on low for 6 hrs. The only thing other thing I would want to change is the ham hock (I'd rather use bacon or sausage - more flavor additions would be needed to go totally vegetarian).
1

(16 ounce) package pink beans (washed and picked clean of rocks and soaked over night)

1

small onion, diced

4

garlic cloves, minced

1

large ham hock, split in half

6 -8

cups water or 6 -8 cups chicken stock
salt and pepper, to taste
In crockpot add cleaned beans, onions, garlic and ham hock.
Cover with water or chicken stock and cook on medium for 6 hours.
At about the half way point the meat should come off the ham hock, if not let it cook a little longer until you can. Remove the ham hock from beans and let cool.
Remove the layer of fat from the ham hock and shred the meat into bite size pieces and return to the crockpot.
When beans are done add salt and pepper to taste and skim as much fat off the beans as possible.