loof751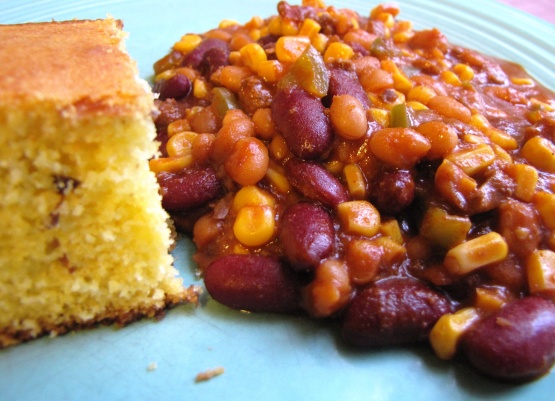 I found this gem in The Food Editors' Favorites series- which I highly recommend if you can find the set! Kid-friendly, inexpensive, and delicious. What more could a busy mom ask for?

Other than adding an extra piece of bacon, and adding a teasppon of chili sauce with the worchestershire sauce to this made reciope as printed. Very pleased with the outcome as we all enjoyed this after a long day at an air and water show. Loved the fact that it is in expensive too with great taste. Thanks for sharing . Made for Zaar Stars.
In a large bowl, combine pork and beans, corn, kidney beans, and chili; set aside.
In a large skillet, fry bacon until crisp. Remove from pan and drain on paper towels. When bacon is cool, crumble into small pieces. Set aside.
Sauté onion and green pepper in bacon drippings. Add onion mixture and crumbled bacon to bean mixture. Stir in ketchup and Worcestershire.
Pour mixture into a sprayed 4-quart casserole dish; cover. Bake at 350°F, 50-60 minutes.