Beans and Franks Bake OAMC
2Bleu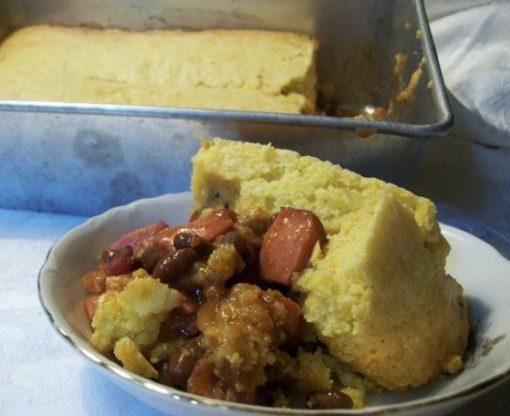 This is a definate favorite of my children. It is quick and easy to make and freezes nicely.

This was super good, super easy and freezes perfectly!! My whole family loved it! I did make a few changes due to what was in my kitchen...instead of ketsup I used 1/2 cup chili sauce and a 1/2 cup of bbq sauce. I also used campbells bean and bacon soup in place of the baked beans and bacon. I left out the cheese (only bc I forgot). And I also cooked the cornbread seperately and just placed the dish over the corn bread when i served it. Will definitely make again!!
Prepare corn bread batter according to package directions and set aside.
In a bowl, combine the beans, hot dogs, bacon, ketchup, brown sugar and onion.
Transfer to two greased 8-in. square baking dishes.
Sprinkle with cheese and top with corn bread batter.
Cover and freeze one casserole for up to 3 months.
Bake the second casserole, uncovered, at 350° for 40-45 minutes or until a toothpick inserted near the center comes out clean.
To use frozen casserole: Remove from the freezer 30 minutes before baking.
Cover and bake at 350° for 40 minutes.
Uncover and bake 15-20 minutes longer or until heated through.