ChefLee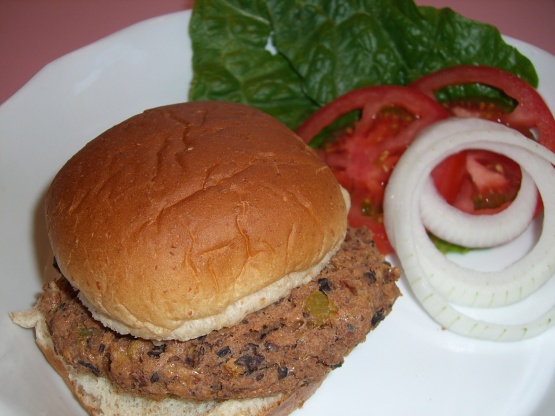 After getting one too many freezer-burned veggie burgers at the store, I created my own!! They have a spicy kick to them. I Hope you like them!!

This is a good vegetarian burger. I only used 1 chipotle pepper and no chilies. I used Mrs Dash and a full tsp. of honey. I did not have any panko on hand so a added 2 slices of whole grain bread. I mixed everything up in the food processor. I was not sure what a Low Broil was, so I cooked it at 425 F. It took about 5 extra minutes to firm up before I could flip it. These had a nice flavour and I really liked that I could cook them in the oven. Thanks for the recipe.
Mash your black beans and pinto beans together in a large bowl with a potato masher or fork.
Chop your adobo peppers (use kitchen prep gloves or wash your hands very well afterwards) then stir them and the green chiles into the beans.
Mix in cheese, panko bread crumbs, and garlic.
In a small bowl; beat your egg then beat in the honey, lemon juice, Lawry's, and pepper.
Add the egg mixture to the bean mixture and blend well.
Form mix into 6 patties and place them on a lightly greased baking sheet.
Set the oven to Low Broil with the rack in 2nd position from the top.
Broil burgers for 10 minutes then flip them over and broil 10 more minutes.