Hanka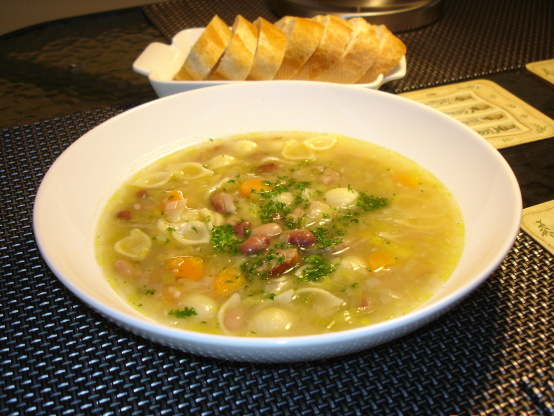 Wonderful soup easy to prepare. Serve with crusty bread.

This was perfect for lunch on a chilly summer day. I know two sausages would have been plenty, but I had six, so used them all. A French friend once told me that Australian stock cubes are not as strong as European ones, so I used four cubes instead of just two. That's probably why my soup looked a lot darker than yours. I was out of shell pasta, so substituted small spirals. This was super easy to make and everyone at lunch loved it. Thanks so much for posting.
Heat the oil in a large saucepan and add sausage. Cook over medium heat for 5 minutes until golden. Remove from sauce pan and set a side.
Add leak, garlic, carrot and celery to the saucepan and cook for 5 minutes.
Add flour and cook for 2 minutes. Add stock cubes and 1 1/2 liters of water.
Bring to the boil reduce heat and simmer for 20 minutes.
Add pasta and beans and cook for 8 to 10 minutes until pasta is al dente.
Return the sausage to the soup and season with salt and pepper to your taste.