Bean Soup Real Navy Bean Soup
teresas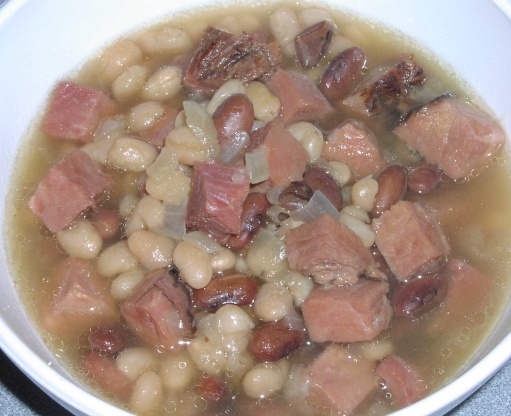 I have been making this soup for at least 25 years. I never change anything! Just follow the recipe and you cannot go wrong. This is a excellent soup for all seasons.
Put beans in a larger bowl covered with water and soak overnight. Make sure there is at least 3 inches of water covering the beans.
After soaking overnight drain the beans and put into crock pot. Chop the onion, garlic and ham,add to crock. Put the smoked ham hocks in along with the Fresh Ground Pepper and bay leafs. Add the water making sure there is at least 1 to 1 1/2 inches of water covering the beans, ham hocks etc.
Cook on low for 7-8 hours. Remove the ham hocks and any fat that has cooked off the hocks! Put the ham off the hocks back in the pot, if you have a warm setting use that setting while you are separating the fat from the ham on the hocks.Serve hot.
OK, OK<<<< Don't Forget To Remove The Bay Leaf! I would think everyone would know that, but I guess Not!