Rita1652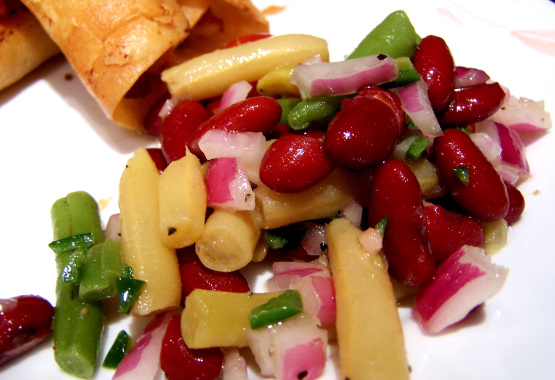 This colorful bean and tomato salad has a delightful kick. It travels well and is great to take to potlucks and picnics, too. Enjoy! Created for RSC#10.

I dont care for bean salad with the creamy dressing and this one was great. Enjoyed the combination of beans and only used one small seeded jalapeno pepper. The dressing was very good and I think would be as good using Splenda brand sugars. Do toss lightly as the beans will break up easily. Refrigerated overnight and had for lunch the next day. Thank you Chef and good luck.
Drain and rinse all beans and place in large bowl that can be used to serve the bean salad. Do not yet mix. (You will mix only once, lightly, at the very end to keep the firm shape of the beans).
Add the chopped onion, minced jalapeños, and grape tomatoes.
In a smaller bowl, combine the lemon juice, white wine vinegar, vegetable oil, salt, pepper, sugars, and Dijon mustard. Whisk until thoroughly incorporated and smooth. Taste and adjust dressing to your liking. Pour over vegetables.
Lightly lift and toss all the vegetables with dressing until mixed.
Chill for at least two hours before serving. The flavors improve and blend over time.