Sarah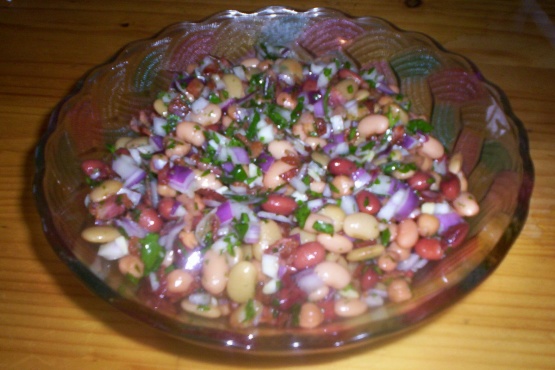 I often make this quick salad to eat with a BBQ.

This bean salad was awesome! I loved it! I used 1 tablespoon of olive oil and 3 tablespoons of red wine vinegar (I misread the recipe) and it was great. For the beans I had a smaller can of 4 bean mix and one of red kidney beans so I mixed the two of those. The onion, parsley and garlic all got whizzed together in the food processor in no time flat so it was fast. I ate nearly the whole lot myself as I'm the main bean eater around here. This is a great healthy side dish and makes a great change to the often unhealthy BBQ choices. Thanks Jan, I'll make this often!
2

teaspoons oil

4

slices bacon, diced

1

(750 g) can four-bean mix (or mix of beans of your choice)

1

small salad onion, finely chopped

1

clove garlic, minced

2

teaspoons red wine vinegar

2

tablespoons olive oil
1⁄4 cup chopped fresh parsley
salt & freshly ground black pepper
Heat the 2 teaspoons of oil in a pan, add the diced bacon, and cook until crisp and brown.
Set the pan aside.
Rinse and drain the beans.
Place the beans and remaining ingredients (including the bacon and any bacon grease) in a bowl.
Mix well and serve.
This is best served at room temperature rather than chilling.