Bean, Potato and Sauerkraut Soup
Brenda.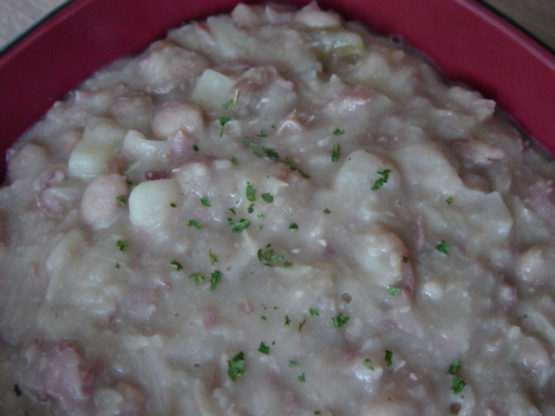 Raining 6 days straight here in the northeast and suddenly I'm thinking about warm comforting soups as a way to warm from the inside out. After pulling out one of my soup cookbooks and came across this one and decided to post it for the Zaar World Tour. You can make this vegetarian by omitting the prosciutto. I have not tried this one so please feel free to share your comments and sugeestions.

Toni, I really enjoyed this soup. The different textures are really palette pleasing. My prosciutto was so lean, I had little fat to work with for the roux, so I made up a little butter and flour roux myself and cooked it until it was a deep golden color. I sliced up the prosciutto into little bitty pieces and added to the sauerkraut when I added the roux. The only recommendation I would make, is to perhaps add a little more liquid, maybe a little vegetable broth because this really does thicken up quite a bit. I guess it would be a personal preference, but I would not add any extra liquid until you have blended everythng together for the last 30 minutes of cook time. That's when you can really tell if the soup is going to be too thick or not. After you and I zmailed re: what I could sub for cranberry beans since I couldn't find them, I did end up using dried Pinto beans and that worked out very nicely. This is a bit labor intensive, but I am glad I tried it. Perfect for a cool fall, or blustery winter day. Thanks for posting this Toni. Nick's Mom
Soak beans overnight in 4 cups of water. Rinse and drain.
Place the beans, potatoes, celery, onion, 1 clove of garlic and 1 bay leaf into a large soup pot. Add water to cover over plus 2 inches. Bring water to boil, then reduce to a low simmer. Cover and cook for 90 minutes.
In a small skillet, render the reserved fat from the prosciutto. Add flour and stir until browned. Remove fat pieces.
Drain the sauerkraut, patting if needed. Place in a sauce pan with second clove of garlic and bay leaf, as well as remaining prosciutto. Begin heating and add the browned flour (roux). Cook for an hour over very low flame.
Remove 3 cups of soup from pot and blend in a food processor. Return to the soup pot. Add in the sauerkraut. Cook for 30 minutes. Add salt and pepper to taste. Stir in the oil and cumin.
Serve warm not boiling hot.