PaulaG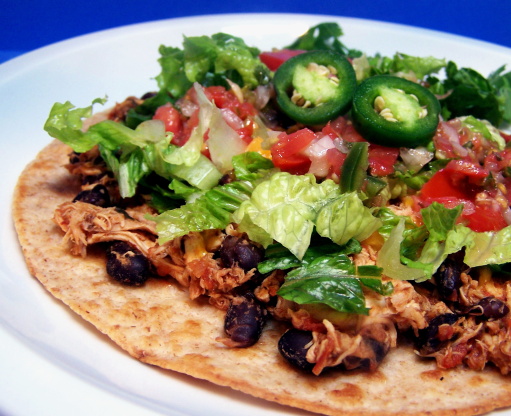 Simple, delicious and anything with chicken, cheese and beans cannot be too bad! This is a Del Monte recipe. Hope you enjoy!
Top Review by PaulaG
Agreed, chicken, cheese and beans have got to be a winning combination. The tomatoes were Ancho Chilie Tomato Sauce and the beans were black beans which were drained and rinsed. The recipe did specify which size of flour tortillas, so I used the burrito size. I did lightly oil a cast iron griddle and cooked the tortillas on 1 side until lightly browned and then flipped, added the toppings and cooked as recommended. I think this help to keep them from getting soggy. Not having avocado, I garnished with fresh Pico De Gallo. These made a great Friday night dinner.
Drain tomatoes, reserving liquid.
Chop the tomatoes.
In large skillet, combine tomatoes, reserved liquid, beans, garlic, jalapeños and cumin.
Cook over medium-high heat 5-7 minutes, till thickened.
Season with salt and pepper, if desired.
Add chicken.
Arrange tortillas in a single layer on grill or another skillet.
Spread 3/4 cup chicken mixture over each tortilla.
Top with cheese.
Cook about 3 minutes or until bottom of tortilla browns and cheese melts.
Garnish with lettuce and avocado if desired.