Bean & Chicken Baked Taco Filling
Parsley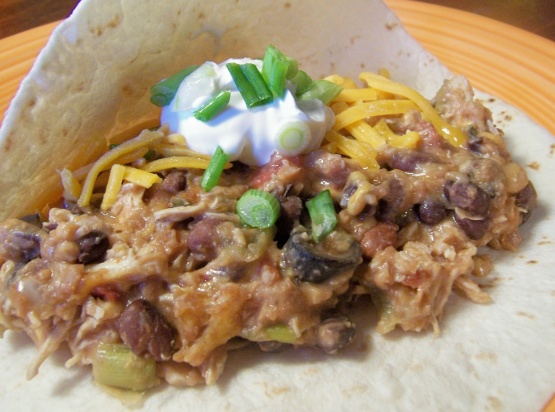 This was posted in my local newspaper as "recipe of the month". It was contributed by Elke Marsh, owner of the hottest new deli in town called Elke's Market Cafe. Note: 3/28/07--added taco seasoning to recipe.

This is a really good, hearty taco filling. I made it exactly as written. I kind of figured that it would need a bit of seasoning help to give it a more "Mexican" flavor. After tasting the mixture, I added ground cumin, coriander and garlic; that did the trick. Adding a packet of taco seasoning would do the trick, also. I served this on soft flour tortillas with a mini taco fixin's bar. Very versatile. I'm thinking that this could easily be made in a Crockpot. You could even just serve this as a dip! Thanx for sharing this. I'll make it again.
Preheat oven to 375 degrees.
Mix taco seasoning and refried beans together.
Put all the ingredients in a greased baking pan.
Stir slightly and bake for 25 to 30 minutes.
Serve with flour and corn tortillas and all the sides you want.
**Cook time does not include grilling chicken.