Bean & Cheese Taquitos w/ Guacamole
Linajjac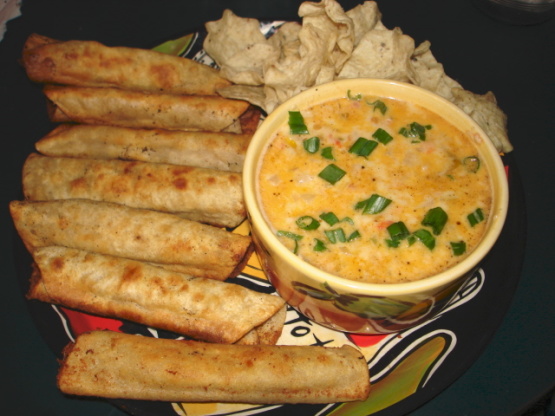 I love taquitos, but it can be hard to find vegetarian-friendly versions (especially in restaurants). This easy recipe can be adapted for vegan diets as well.

These were so good. I had some corn tortillas to use up and this was a great recipe. I just used regular Tabasco, becaus that's what we had. And a whole lot less oil - enough in the pan to kind of roll them over to fry. Made them early in the day, then reheated in the oven. Our guests loved them.
Make guacamole first by combining all ingredients except sour cream.
Mash and stir until only small lumps of avocado remain.
Garnish with sour cream piled in the center and refrigerate until ready to use.
Combine beans, Tabasco, cumin, corriander, salt and cheese stirring well.
Microwave tortillas between 2 paper towels, 3 at a time on high for 30 seconds.
Work with one tortilla at a time, keeping the others covered in paper towels so they stay warm and moist.
Place 1 tablespoon of filling at the center edge of tortilla closest to you and roll tightly away from you like skinny cigar.
Keep filling away from the edges, as it may leak out when frying and cause the oil to spatter.
Put seam side down on a paper towel or wax paper and repeat the process until you've made all 24 taquitos.
Using medium-thick cotton string, toothpicks, or bamboo skewers secure the center seam of each taquito (if you omit this part, they will pop open during frying and make a big mess).
Heat oil in medium frying pan on medium-high (about 325F) and cook taquitos 4 at a time turning frequently until golden brown on all sides.
Drain on cooling rack on top of paper towels (this ensures the oil drains away and the taquitos stay crispy).
Serve hot with guacamole.