Sirpezy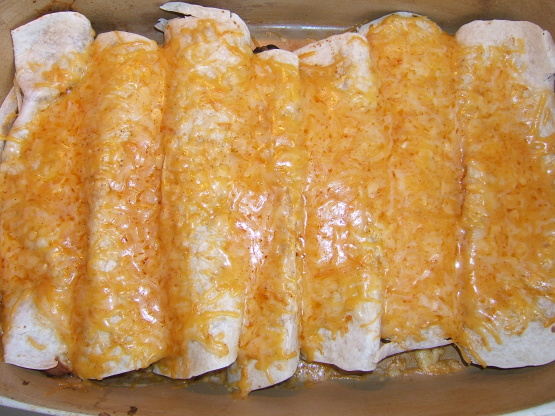 Top with loads of sour cream and chopped tomatoes for an easy delicious supper! From Gourmet.

Another winner from BEV. I doubled the recipe as I needed 2 trays: 1 for our dinner, and 1 for DD's work luncheon. I used black beans, canned chilies (cause I dont like chopping fresh jalapenos) a little hint of dried coriander, and monterey pepperjack cheese. I mashed the beans in the pan with a potato masher as the spoon didnt work for me. Served with homemade guacamole, sour cream, and jarred salsa. The burritos were a big hit at DD's work and a bigger hit at home. I had only 3 leftover which DH claimed for his lunch the next day. They were great reheated in the microwave. Thanks Bev for another KEEPER!
Make the filling: In a large heavy skillet cook the onion and the garlic in the oil over moderately low heat, stirring, until the onion is softened, add the beans, and mash about half of them coarse with the back of a wooden spoon.
Add the tomato sauce, the cumin, the chilies, and salt and black pepper to taste, simmer the mixture, stirring, for 3 to 5 minutes, or until it is thickened slightly, and stir in the coriander.
Working with 1 warmed tortilla at a time and keeping the others covered, spread about 3 tablespoons of the filling down the center of each tortilla and roll the tortillas, enclosing the filling but keeping the ends open.
Arrange the burritos, seam sides down, in one layer in a baking dish, sprinkle them with the Monterey Jack, and bake them, covered with foil, in the middle of a preheated 350°F.
oven for 10 minutes.
Serve the burritos with the guacamole and the salsa.
Makes 12 burritos, serving 6.