ROTEL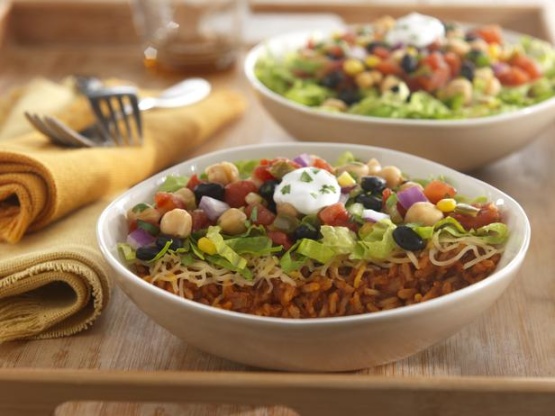 Burrito ingredients -- flavorful rice, beans, tomatoes, corn, cilantro and lettuce -- without a tortilla, layered in individual bowls or in a casserole dish

Awesome vegetarian meal. I saved the drained tomato juice and replaced some the water used to cook the rice. I used the hot variety of rotel so had a great heat. I heated the tomatoes, corn, and beans as a personal preference.
Heat oil in medium saucepan over medium heat until hot. Add 2/3 cup of the onion and the garlic; cook 5 minutes or until tender, stirring occasionally. Add rice; cook and stir 2 minutes.
Add tomato sauce, water, ground chile and 1 teaspoon of the cumin. Bring to a boil. Reduce heat to low, cover and simmer 45 minutes or until all liquid is absorbed.
Meanwhile, place both beans, drained tomatoes, corn, the remaining onion, cilantro, lime juice, hot sauce and the remaining cumin in large bowl. Mix well; set aside.
When rice is done, stir in salt. Divide hot rice mixture among 8 individual bowls or spread in 13x9-inch dish. Top with cheese, lettuce and bean mixture. Serve immediately and top each serving with sour cream.