A versatile dish with southwest flavor that can be stuffing for your burritos or a hearty dip for tortillas. Vegetarian and delicious! My family has been known to eat this wrapped in floured tortillas, on tortilla chips, and even piled over a thick slice of toasted bread and eaten with a fork!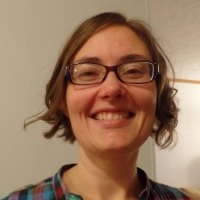 I think this recipe has potential, but as is, it was not for us. I followed the recipe. It was pretty bland and the rice was still crunchy. Sorry.
Preheat oven to 350°F.
To 2 quart baking dish add the black beas,kidney beans, corn, tomatoes. (Drain all except the tomatoes.).
Sprinkle over the top all of the spices. Then add the cheese and rice.
Mix well so the rice is dampened by the tomato juices.
Cover and bake for 20 minutes.
Remove from oven and add 4 oz fat free sour cream. Mix so it is evenly distributed through the dish.
Return to oven and bake 10 more minutes.
Allow to cool only briefly before serving unless you intend to use as a dip. In this case serve it warm but not hot.