Shuzbud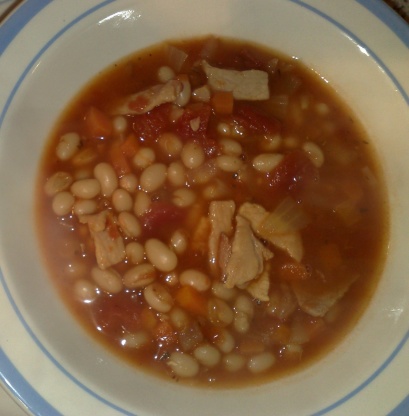 I have been making this soup for a long time now and everyone likes it. Very tasty if made with smoked bacon.You can use any beans you like.Can't remember how i came by it.

Thank you RecipeZaar for featuring Tea Jenny as Chef of the Day--your soup recipes sound delicious, and this one proves they are. Fast, easy, and the soup looks and tastes so good. It goes into our soup rotation now, and I look forward to trying the others.
Heat the oil and add the bacon and cook until the fat begins to run.
then add the chopped onion, garlic, celery,carrot, and cook for 5 min's med heat.
Then add tomatoes and stock and bring to the boil and simmer for 20min's
Stir in the beans and reheat until boiling
Add seasoning and chopped basil and serve with some nice crusty bread.