Bean, Bacon, and Blue Cheese Dip
Thorsten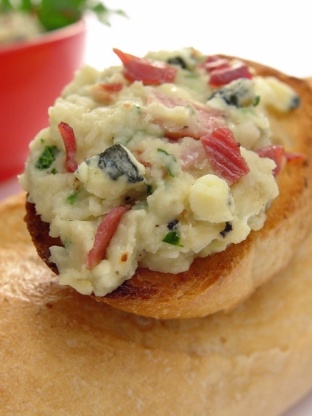 Flavorful dip from Cooking Light. Serve with toasted baguette slices or warm pita wedges.

I made this for my dear, dumb, very Neanderthal Bf Dugan's monthly poker party. I almost hoped it wouldn't go over well so I would have something to eat myself. I LOVE bacon and blue cheese, combined. I was disappointed, I am afraid. I got only a few crackers with this dip before serving. It was hurredly scarfed by the whole lot of Dugan's grease monkey mechanics who demanded more. I make a different dip every month and they look forward to it. This is the first time in three years they have said. "We don't want something different next month. We want this." Then they grunted something I didn't understand and laughed amongst themselves and picked up their beer bottles and drank and started scratching themselves in places that I thought were very inappropiate. I don't know- I guess it is a guy thing. But they seemed to enjoy it. (I mean they seemed to have enjoy the dip- although, I think they may have enjoyed scratching themselves, too) I dunno. So... five stars. Thanks, dear. Pottsie PS. I tripled the bacon... they are carnivours. (Me too!)
Place first 7 ingredients in a blender or food processor and process until smooth.
In a small bowl, combine bean mixture, cheese, and bacon.