Bean and Cornbread Casserole (Crock Pot)
BB2011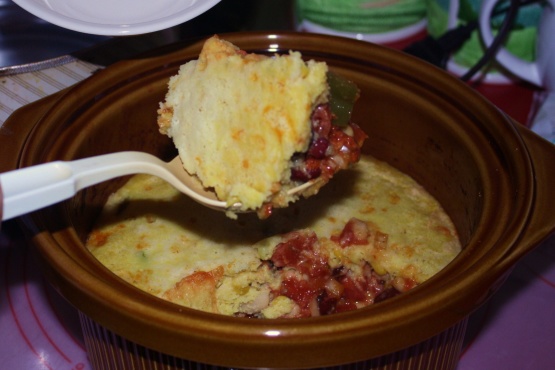 From the Rival Corporation

I am a BIG texture person and was so surprised no one had mentioned the texture of this dish in their review. It was, to me, gooey - much like a tamale. Nothing like real cornbread. It not overly exciting of a dish and the kids didn't eat it. As far as bland goes, my hot sauce took care of that.
Lightly grease Crock-Pot.
In a skillet over medium heat, cook onion and green bell pepper until tender.
Transfer to Crock-Pot.
Stir in kidney beans and pinto beans.
Add diced tomatoes, tomato sauce, seasonings, and hot sauce.
Cover and cook on High for 1 hour.
In a mixing bowl, combine cornmeal, flour, baking powder, salt, and sugar.
Stir in milk, eggs, vegetable oil, and cream-style corn.
Spoon evenly over bean mixture.
Cover and cook on High for 1 1/2 to 2 more hours.
Serve.