I love navy beans and bacon so I came up with this soup.
1 lb dried navy beans (Soaked in water overnight or quick soak method)
6 slices bacon, from butcher chopped in pieces (thick slices)
1⁄3 cup chopped celery
1⁄3 cup chopped carrot
1⁄3 cup choppeed onion
5 cups chicken stock or 5 cups beef stock
celery salt
Directions
Cook bacon in soup pot till browned but still limp.
Remove bacon from pan and reserve two tablespoons bacon fat.
Cook carrots,onions, and celery in bacon fat over medium heat till soft.
add beans and broth to soup pot with bacon and veggies.
Bring to boil and turn heat down to simmer for 1/1/2 hours.
Season with celery salt and pepper and serve with crusty bread and butter.
Most Helpful
This recipe was delicious! So easy to make, yet the flavor was great. I doubled the recipe and put a full pound of bacon and added just a little garlic & 1 bay leaf. Definitely will make this again, the family loved it too. Thanks! :)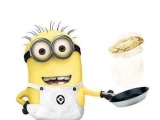 A simple to make, yet soul satisfying meal that was perfect on a cool winter evening. Thank you.

Made this today after hearing it was only going to be 3 degree. It was great, every buddy loved it. There wasn't even enough left for the dog. Thanks