Beacon Lightly Breaded Onion Rings
alligirl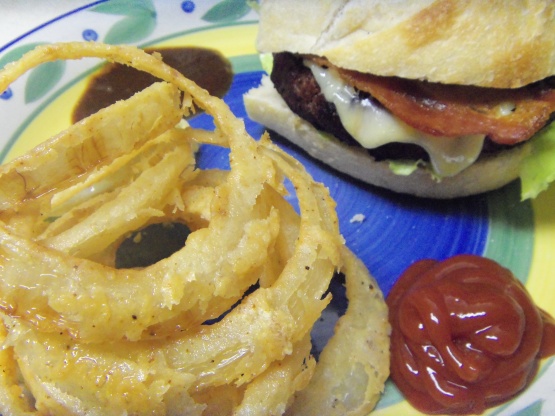 From Diners, Drive-ins and Dives cookbook. Courtesy of Kenny Church of Beacon Drive-In, Spartanburg, SC.
Heat the frying oil in a large heavy pot over medium-high heat until a deep-fry thermometer reads 325 degrees. Peel and slice the onions into rings about 1 inch thick (just rings,not hearts).
Whisk the buttermilk, egg, and 1 T vegetable oil in a large bowl. In another bowl, whisk the flour, 1 t salt, and the pepper.
Drop the onion rings frist into the buttermilk mixture and then into the flour, making sure they are well coated with each dip. Shake the excess flour off the rings and fry in batches until golden brown, about 3 minutes. Remove from the oil, sprinkle with salt, and serve hot.