loof751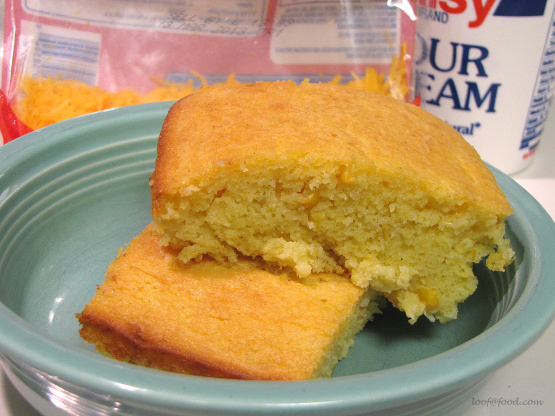 Wow, this is so DELICIOUS... has a very moist cake texture, but not sweet like cake. I loved it and asked for the recipe from my BIL who is a fabulous cook... thanks Warren!

This is a delicious moist cornbread! When I mixed the ingredients together I was skeptical as it didn't seem that there was enough cornmeal to make a cake - I was expecting to add flour or something. However after the 40 minute baking time I was treated to a lovely cornbread with a firm crust and tender inside. Thanks for sharing a great recipe! Made for Fall PAC 2012
Mix all ingredients together in a large bowl.
Place a 10 inch square cake pan containing 1/2 cup oil in 375 degree oven. When oil is hot, pour oil into mixture.
After thoroughly mixed, pour mixture into the pan just used to heat the oil.
Bake 30 to 40 minutes or until brown around the edges. Serve immediately.