BBQd Bacon-Wrapped Pork Fillet
Zurie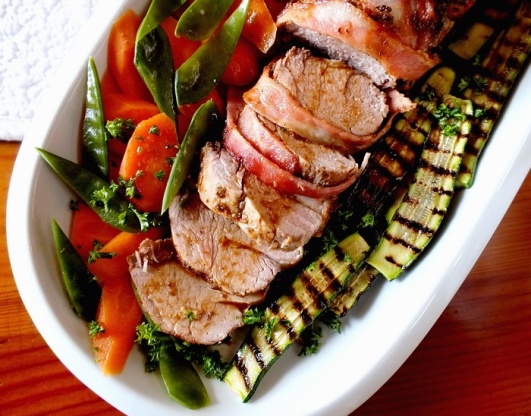 Pork fillet smothered in roasted garlic alfredo sauce (see notes), wrapped in bacon and cooked on the barbecue. When it's time for BBQs, delicious! Adjust the amount of garlic to taste; adding garlic is one of several changes I made to the recipe. Adapted from a recipe I received by email from the Simply Great Meals Recipe Club.

Top Review by Zurie
What a quick and easy pork fillet recipe! My fillet was the usual fairly thin pork fillet. Like most other reviewers I could not find the sauce specified in the original recipe, but scoured the -- looks like hundreds! -- sauce bottles in my supermarket, and eventually bought "A1 Supreme Garlic Sauce". It was a bit too strong in the sauce, so I thinned it considerably with white wine, and that tasted just great. I also used more bacon, as I was worried about drying out the meat. As winter does not seem to want to leave us this year in South Africa, I roasted the meat in the oven -- nothing would persuade DH to start any kind of grill fire! (It's very damp and chilly after yet another night of rain!) Apart from the veggies I made chips and a salad with it. (Okay, that should be french fries for the US cooks, LOL!) Thanks for the easy recipe! I think it would be nice with any good bottled sauce.
Place the pork fillet into a shallow dish. Brush with melted butter and sprinkle with dried sage and chopped garlic. Pour the roasted garlic alfredo sauce over the meat, cover and refrigerate for four hours or preferably over night.
Cut each of the slices of bacon into halves lengthwise. Plait these strips around the pork in a criss-cross pattern. Reserve the marinade for heating and serving with the pork.
Cook the bacon wrapped pork fillet on a heated barbecue on a medium heat for approximately 30 minutes or until the pork is cooked through, turning halfway through cooking.
Place the remaining marinade into a small saucepan and bring to the boil. Lower the heat, add 1/4 cup of wine and simmer for an extra minute and serve with the sliced pork as a sauce.
Notes: The original recipe specified Leggo's Stir Through Sauce - Roasted Tomato & Bacon, but Zaar was unable to recognise this as an ingredient. The closest acceptable ingredient I could find was roasted garlic alfredo sauce. Use whatever equivalent to one of these is available in your region. The pork can be cooked in a conventional oven at 180ºC for 40 minutes or in an outdoor kettle oven following manufacturer's weight for cooking time.