BBQ Watercress Pesto Burgers
Bergy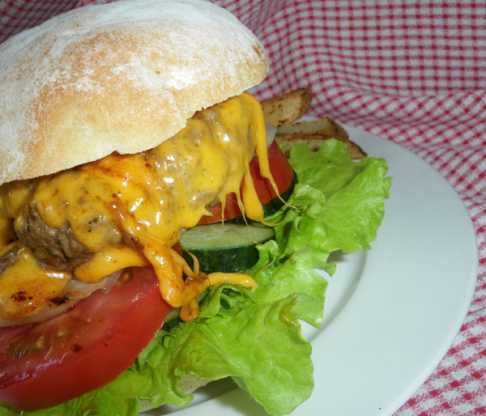 This is one tasty burger - You will need to make the watercress pesto Watercress No Nut or Cheese, Pesto first.The recipe says make 4 patties I like to make 3 out of a lb of meat This recipe is from the Meat Lovers Cookbook by by Sarlin & Porter Serve the burger with whatever condiments you want I recommend sliced tomato, slice sweet onion, perhaps some cheese and I do like mushrooms or if you prefer with just add some watercress pesto over the burger...
Combine all the ingredients and form into 3 or 4 patties.
The burger is quite soft and lends itself best to pan frying.
Lightly spray your pan with oil, High then medium heat.
3 minutes each side leaves the burger medium rare-I like 5 minutes each side.
Top with your favorite condiments.