BBQ Turkey and Ham Parcels
Nimz1466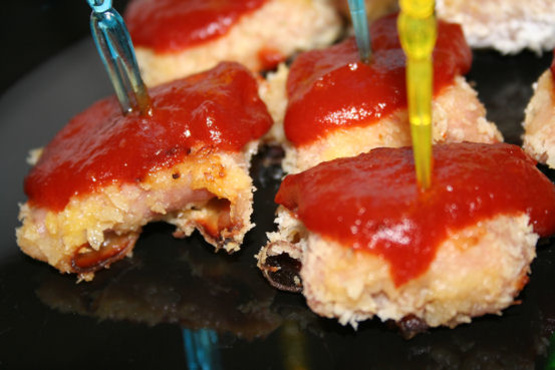 Posted for RecipeZaar World Tour 2006. Make in advance for your next BBQ... Use any cheese that has good melting qualities... Cheddar, Double Gloucester etc. Preparation time includes 2 hour chilling time. Escalopes= A French term meaning a "very thin", boneless slice of meat such as: veal, pork, turkey, or salmon. Escalopes are thinner from using a meat mallet or rolling pin to thin out. The cooking time is very short because they are so thin. REGION: France.

We loved these little babies. They were very flavorful and we loved the touch of horseradish, although I used more than stated. I had a lot of trouble with the coating as written. It was just to dry to stay on each bundle. I added an additional egg, but that only made it a thick paste and I could not get it to stay on. So, I dipped each bundle in a beaten egg mixed with a little water, then coated each in the flour and bread crumb mixture (I used panko since that was what I had). I did not see a way I could grill these, so popped them in the oven at 350 degrees for about 20 minutes. Never could get them to brown very well. Then I applied the BBQ sauce to some and cocktail sauce to others and put them back in the oven for about 5 minutes. Yummy. I'll be making these again.
But your turkey into 16-18 pieces.
Lay it onto a sheet of cling-film or greaseproof paper, cover with another sheet of same and use your rolling pin or a meat tenderizer to roll or bash them really thin.
Cut each of the slices of ham in half and cut the cheese into 16-18 little rectangular blocks.
Wrap the cheese blocks with the ham, making sure that you have a small amount of horseradish and seasonings inside with the cheese.
Wrap up your little ham bundle in a piece of the turkey, using a cocktail stick to secure firmly.
Mix the egg, flour and breadcrumbs together.
Coat the turkey bundle in the egg mixture and chill in the refrigerator for 2 hours.
Brush with plenty of oil and BBQ or grill them for approximately 8 minutes each side.
Garnish with lime slices and serve hot.