Derf2440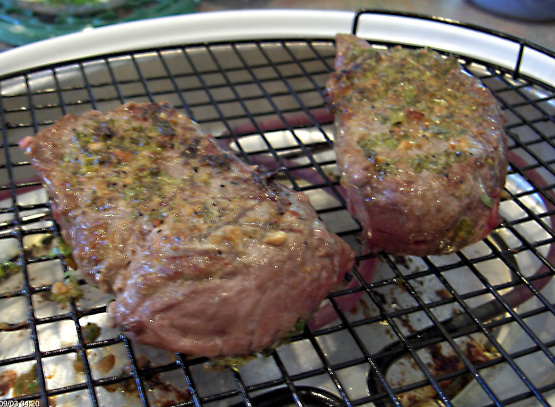 This recipe allows you to use a less expensive steak and still have delicious tender meat. Good BBQ recipe. You can use pork or chicken in place of beef.

The fresh herbs at our supermarket were less than desireable when I went shopping, so I used dried oregano and thyme instead with 6 sirloin steaks (totaling over 4 lbs). This was a pretty quick and easy recipe to make and we cooked the steaks on the grill for 7 minutes per side (since they were bigger steaks) and they came out perfectly medium rare and very juicy and tender. It was nice to save on a cheaper cut of meat, but still have a delicious meal!
Sprinkle both sides of the steaks with mustard powder.
Mix remaining ingredients and stir well.
Put steaks in a shallow pyrex dish (or other non metallic dish).
Spoon half the marinade on top side of the steaks, turn steaks over and spoon remaining marinade on them.
Refrigerate covered for at least 4 hours or overnight.
Preheat BBQ to medium-high.
Remove steaks from marinade.
Cook about 4 minutes on each side for medium rare.
Put steaks on a warm platter cover with tinfoil and let them rest for 10 min in a warm place.