flower7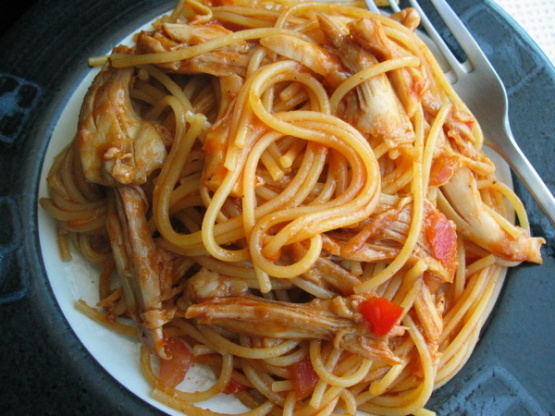 In this recipe you can use leftover pork, beef, or chicken. Recipe courtesy The Neelys.

pretty good! different taste for spaghetti. used up some left over pulled pork. bbq sauce was really good! added a touch of honey cuz the man said it needed to be a little sweeter. Im gonna add some red pepper flakes next time! thanks for posting cookiedog!
In a large skillet, heat olive oil over medium heat. Saute the pepper and onion, until softened for 1 to 2 minutes. Stir in the garlic salt. Add the premade BBQ sauce and bring to a boil. Reduce the heat to a low simmer and add the chopped meat.
Meanwhile, fill a large pot with water and bring to boil. Season liberally with salt and add spaghetti. Cook for 7 minutes, until al dente (firm but not hard) and drain. Toss spaghetti with sauce.
Neely's BBQ Sauce: In a large saucepan, combine all ingredients. Bring mixture to a boil, reduce heat to simmer. Cooked uncovered, stirring frequently, for 2 hours.
Yield: 3 1/2 cups.