teresas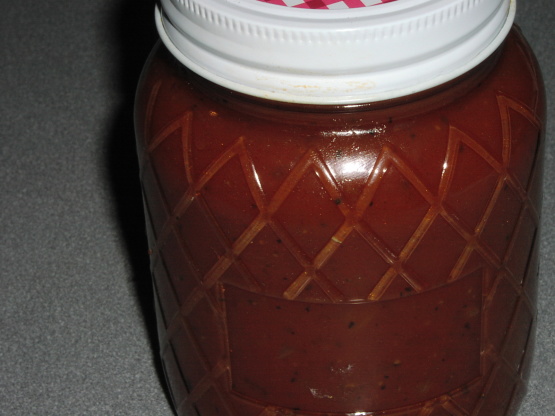 I make this on the bbq grill so I don't have to use liquid smoke. I didn't specify red, white or apple cider vinegar. Each gives the sauce a slightly different flavor and I like them all. Just not all at the same time. same thing for the sugar and/or molasses. I find the cider vinegar works well with the molasses while the red or white vinegar works best with white or brown sugar. but thats just my opinion. Sometime I use the brown sugar and molasses at the same time which gives it a more sweet less spicy version. Be aware that as the sauce sits overnight the spices will mature and get hotter. The sauce usually fully matures after 48 hours. It can be used right away just be warned about tomorrow if you get a little excited with the peppers.
I didn't have brown mustard so I used honey mustard. I used molasses and a little bit more. I didn't want it to be too spicy for my son. I used less cayenne pepper. This is a great BBQ sauce. I made it yesterday and tonight we made pork tenderloin on the bbq with it. So yummy. Thanks chefmick :) Made for Newest zaar tag
In sauce pan mix all ingredients.
bring to boil, reduce to simmer uncovered for 20 minutes or so. onions should be soft.
sauce will reduce and thicken.