Peter J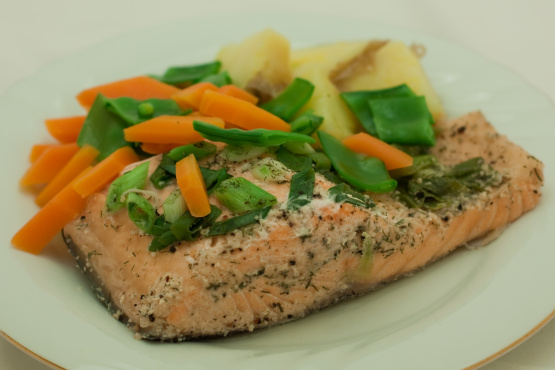 Lovely tender, juicy salmon BBq'd to perfection. Serve this with baby new potatoes. garnish with lemon wedges, new carrots & fresh peas. You can serve this hot or ar room temperature. You can bake it in the oven 350f for 25 minutes - time can vary according to thickness of the salmon filets

Bergy, I'm sorry, but I have to give you a 5 on this one. *s* I cooked this last night on the grille for me and the couple next door and we loved it. I've never used the wine on salmon before but I'll be doing this one again soon. I had a 1.4 lb salmon but used the rest as directed and it was absolutely delicious. Thank you for this one! Chuck
Heat the BBQ to high medium.
Place salmon on double foil.
Rub salmon filet with olive oil.
Sprinkle with chives, shallots,garlic, dill, salt& pepper.
Add fine herbs.
Form an envelope of the foil& pour in the wine.
Seal the salmon in the foil, tucking in all the edges.
BBQ apprx 20 minutes turning the salmon once- check for doneness (is that a word?).
If not quite done continue to BBQ.