BBQ Ribs - a Little Sweet, a Little Tangy
Chef Dee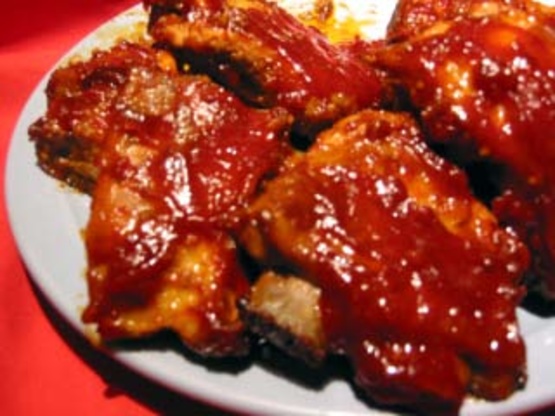 We love BBQ ribs, especially homemade. I took a copycat recipe and made some changes that gives the sauce a sweet tangy flavor. I always make extra sauce so I can keep pouring over the ribs as they are roasting.

I made these for our superbowl party and they were a huge hit. I will never buy prepackaged ribs again!!! I also made up some of the bbq sauce for little smokies in the crockpot. Fabulous as well. Great recipe
Cut the ribs into smaller segments, then simmer for one hour until tender.
Combine the sauce ingredients in a saucpan and bring them to a boil.
Reduce heat and simmer for 30 min's.
Place meat side down in roast pan, brush with the sauce.
Bake uncovered for 30 mins at 325.
Turn the ribs over and brush again with the sauce, return to oven for another 20 min's.
Brush more sauce on the ribs, return to the oven for another 10 min's.
If you like darker ribs, turn on the broiler for a few minutes when they are almost done, and watch closely while they darken.