Bergy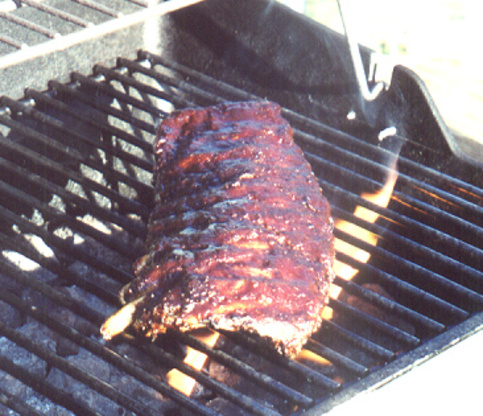 This is an excellent dish for a barbeque party. Make the ribs in advance, and when your guests have arrived, all that's left is to grill them. You'll have them wondering how they got so tender and tasty so fast.

Top Review by andre
i added 1/2 cup of honey to this recipe and baked them at 325 degrees for 1 1/2 hrs. they were the best ribs i have ever eaten. my 30 guests agreed.
Place ribs in a large skillet.
Cover with salted water and bring to a boil.
Reduce heat and simmer over low heat for 1 hour, or until meat is tender, but not falling off the bone.
Melt the butter in a saucepan and saute the onion and garlic until the onion is tender.
Remove from heat and pour into a blender with all remaining ingeredients.
Puree for 1 minute, then pour back into saucepan.
Bring to a boil, then remove from heat.
Place the boiled ribs in a shallow dish and pour sauce over them.
Place in the refrigerator for at least 2 hours.
Barbeque ribs on an outdoor grill over moderately hot coals, basting with the sauce and turning often until well browned.