BBQ Pulled Pork Sandwiches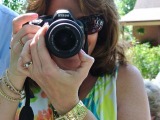 This meal is one we always eat too much of. I recommend using Sweet Baby Ray's or Jack Daniel's original BBQ sauce. A good quality sauce makes a lot of difference. I serve it with my Sweet, Creamy Coleslaw #100526.
Directions
Place the pork shoulder roast in the crockpot on low (on high if frozen) with 1 cup of water, basil and rosemary for about 8 hours (can be done overnight, use low even if frozen).
Remove any skin or bone.
Pull the meat apart into small pieces, I use forks, and return it to the crock pot.
Add a bottle of BBQ sauce and a little water (1/4 c.) and stir to coat.
Continue to cook on low for an hour or two.
Serve on hamburger buns with coleslaw.
Reviews
Most Helpful
Yum. I found this recipe because my husband bought pork shoulder, which I'd never had before. This was delicious, but I was feeling pretty guilty about all the white fat that seemed to disappear, and rinsing it didn't make me feel better. Next time, I'll make it with the pork tenderloin, as Goochie137 said was used. (Feb '06)<br/><br/>I must update my review (which already was a 5star review) and say this is the bomb. I've made it now twice for my daughter's band (200+ ravenous kids and a few adult cheperones) and I get rave reviews. Kids I don't know hug me and tell me it's the best pulled pork they've ever had! I do have to roast it in the oven (350 @ 25 min/#/hunk, or until internal temp is 165) and it takes forever (esp to make 100 #!) but it is SO worth it. Fat and all. (Sep 2013)<br/><br/>Thanks!
Very simple recipe that produces great results. I left this on low over night, and then added an onion, a red and yellow pepper and some mushrooms for the final 4 hours before serving. Turned out great.
I made this today for dinner and it was an absolute hit with the whole family. I don't like northern (sweet) style BBQ sauce, so I used Stubbs, which is more Carolina style. I also added a little dry sherry to the water at the beginning. I will use this recipe over and over!
Game-Day Grub >