BBQ Pulled Pork Sandwiches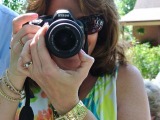 This meal is one we always eat too much of. I recommend using Sweet Baby Ray's or Jack Daniel's original BBQ sauce. A good quality sauce makes a lot of difference. I serve it with my Sweet, Creamy Coleslaw #100526.
Directions
Place the pork shoulder roast in the crockpot on low (on high if frozen) with 1 cup of water, basil and rosemary for about 8 hours (can be done overnight, use low even if frozen).
Remove any skin or bone.
Pull the meat apart into small pieces, I use forks, and return it to the crock pot.
Add a bottle of BBQ sauce and a little water (1/4 c.) and stir to coat.
Continue to cook on low for an hour or two.
Serve on hamburger buns with coleslaw.